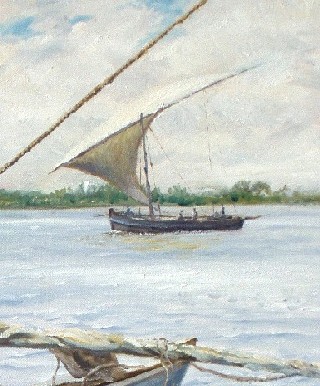 Welcome to the online gallery of my paintings.
This site showcases a selection of works created over a number of years. The paintings are mostly oil on canvas, acrylic on canvas or oil on board. There is also a number of watercolours - or "line and wash" - and a further section of ink drawings.
Most of the paintings are available for sale, but I have included some that I have already sold or have painted on commission. If you would like to consider buying one of the available paintings or drawings from the gallery or would like to commission one, or would just like prints or cards of any of the paintings, please click on the "Price List" button on the site menu to the left.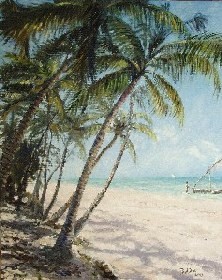 The Swahili Coast is featured in the title because I'm currently producing a series of paintings on the East coast of Africa. I find the atmosphere and the images of that part of Africa intoxicating and inspirational. Most are shown in the first section, "The Swahili Coast", and a selection of them are discussed in the "More Details" section.
I have visited coastal Kenya many times over the last few years and after exploring the coastal strip between Malindi, Mombasa and Zanzibar I became interested in the history of the region, particularly the influence of the Arab traders who sailed up and down the coast on the trade winds in their distinctive lateen rigged dhows. They traded anything and everything, from slaves to cured shark meat and spices to the mangrove poles used in the building industry. Many of the traders settled and intermarried with the indigenous populations and their descendants and culture are still a vibrant part of East Africa. At one time the Sultan of Oman even transfered his capital city from Muscat to Zanzibar, such was the importance and attractive climate of the region. My wife, Shahida, spent most of her childhood in Mombasa and is herself a descendant of the Omani traders.
I hope you enjoy browsing through the galleries. Just click on the menu buttons (left) to view the galleries and click on the images themselves if you would like to see a larger view (remember to click on the 'back' arrow in your browser tool-bar to return to the gallery page). If you would like to know more about the website itself, click the "Website" button.
Kwa Heri!
Paul Dier